Our custom frames are created to your specifications with the highest standards of workmanship to ensure serviceability and longevity.

West Central Manufacturing doors are of the highest quality construction and materials with no visible seams. They are constructed for extra heavy-duty applications.
A temperature rise door is used when it is required to retard the transmission of heat from one area to another. It is a measurement of the rise in temperature above ambient temperature of the non-exposed side of the door during the first 30 minutes of the standard fire test. The lower the degrees, the better the rating. The currently accepted norm is a 250 degree rise over 30 minutes. A temperature rise rating is not required for a standard labeled fire door.
The 250 degree temperature rise designation is the most stringent rating since it requires the most limiting rise in temperature. A 250 degree temperature rise door meets the requirements of specifications calling for a 450 degree temperature rise rating.
Temperature rise doors are generally used in stairwells of high-rise buildings. The doors are used to limit the temperature rise through the door into the stairwell for a period of time, thus making it possible for people to exit the burning building by safely passing by the floor of the origin of the fire.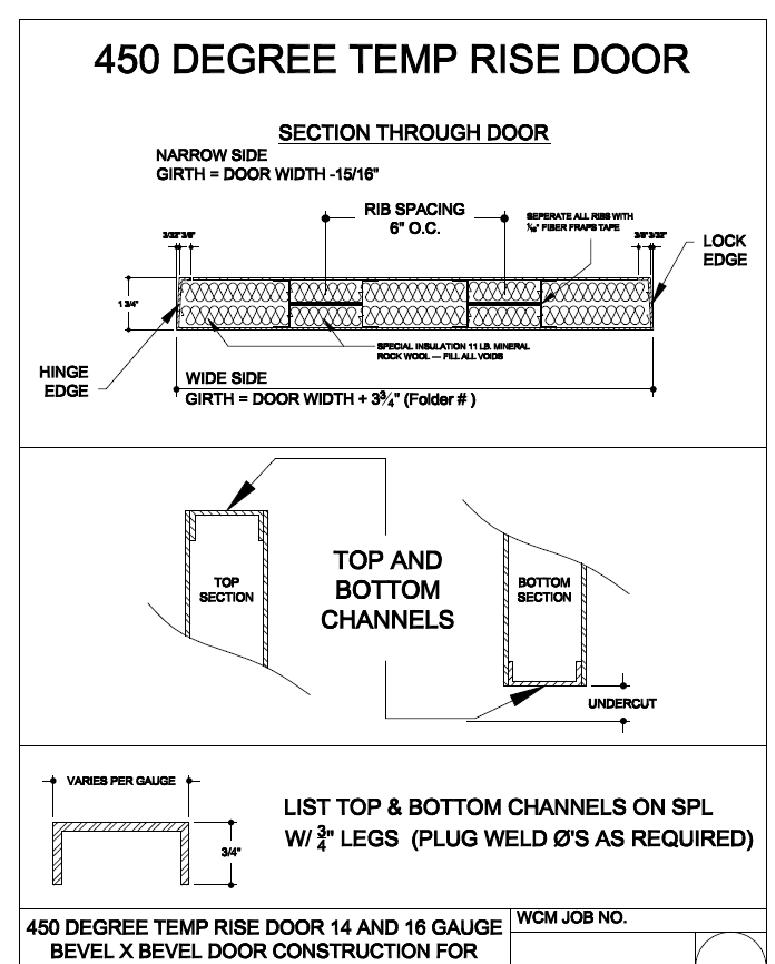 Material -16 or 14-gauge sheets of commercial grade A60 Galvannealed.
Core -Steel Stiffened
Reinforcements
Top and bottom of doors shall have continuous 16-gauge steel channels, spot welded to both sides of doors.
Hinge reinforcements shall be 7-gauge steel, 12" long.
Cylindrical lock reinforcement shall be 16-gauge.
Closer and Panic hardware must be thru-bolted.
Edges of door shall be continuously seam welded, ground, and filled to ensure a smooth finish.
Hinge Backset - 1/4" standard. 3/16" or 1/8" available.
Finish - Doors shall be thoroughly cleaned after assembly and given a prime coat of rust inhibiting paint. The primer shall be air dried. Low gloss oil base trim paints (max gloss 25) are recommended as a finish paint.
Undercut - 3/4" standard. Other undercuts as specified.
Astragals - Flat 12-gauge astragals are provided with pairs of doors as needed and are shipped loose for field mounting.
Size Limitations
Largest single door available: 4-0" x 8-0"
Largest pair size available: 8-0" x 8-0"
Vision Light
Up to 100 square inches exposed.