Our custom frames are created to your specifications with the highest standards of workmanship to ensure serviceability and longevity.

West Central Manufacturing doors are of the highest quality construction and materials with no visible seams. They are constructed for extra heavy-duty applications.
Dutch doors are doors that are split in two, top and bottom so that the top may swing independently of the bottom. The two leafs may be joined by a bolt (surface or flush). There is often a shelf between the two
Dutch doors can be made in any material or thickness. Therefore, they can be 1 3/4" thick, 1 3/8" thick or 2" thick. In additional they can be made in 16, 14, or 12 gauges. Dutch doors are available with vision lites or louvers. Doors can be UL Labeled.
3 Hour Label Dutch Door Details:
4'-0" x 7'-2" Maximum Single Door Opening.
Vertically Steel Stiffened - 16 or 14 Gage.
Top and bottom leafs must latch into strike jamb of frame.
Astragal provided between leafs.
Single or double shelf optional.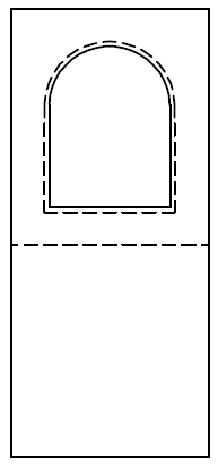 Dutch door with Radius Lite Kit.