Our custom frames are created to your specifications with the highest standards of workmanship to ensure serviceability and longevity.

West Central Manufacturing doors are of the highest quality construction and materials with no visible seams. They are constructed for extra heavy-duty applications.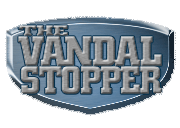 Rugged and well built to withstand the abuse of high vandalism areas... yet aesthetically pleasing. These stalls are completey ground and finished, so the finished product looks like one smooth piece of steel.
Su-Par-Tition Top View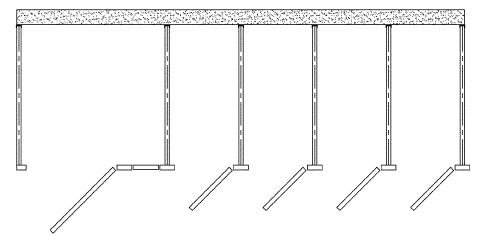 Su-Par-Tition Front View
Standard Construction Features
Doors and side panels are 1 3/4" thick, and are fabricated from 16-gauge material with vertical steel stiffeners. Standard sizes: side panel 59" or 60"W x 58"H, standard door 26"W x 58"H, standard handicap door 32"W x 58"H. Screen Sizes vary to suit requirements.
Vertical support stiles are 3/16" structural tubing. 6"W x 2"D standard; 4x2, 8x2, 10x2, 12x2 also available for between wall or specific dimensional needs.
Anchors, angles and connecting channels fabricated from 12-gauge material with tamper-proof screws standard.
Headrail is 14-gauge anti-grip.
SuParTitions are finished in shop prime paint (custom painting available), and may be painted and repainted as necessary.
Heavy-duty 3/8" Stainless steel bolt mechanism and structural steel hinge hardware are standard.
Custom Construction
SuParTitions can be built to fit existing conditions in remodeling and renovation projects as well as new construction. We can build whatever you need, whether it is ceiling hung or floor mounted. Options include free standing back support wall only, corner back one one side support walls, and between wall back and both sides support walls. Dressing compartment screens, urinal screens, sight screens and entrance screens are also available.
Our experienced engineers can help you through every step of the design and manufacturing process, helping to plan layout and providing shop drawings based on room measurement and toilet placement.
STALL DETAIL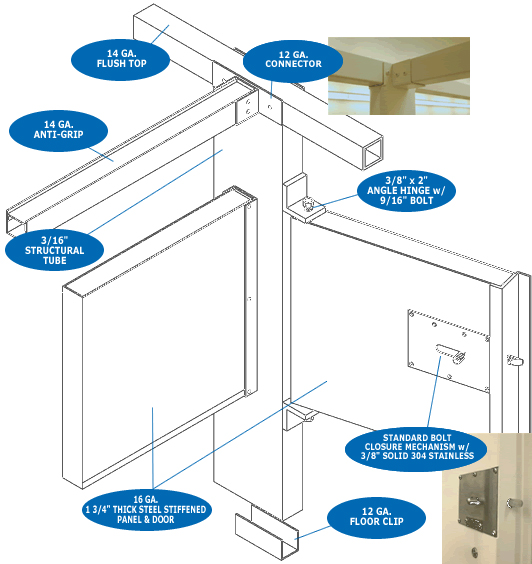 URINAL DETAIL